Web Design Services & Trends in 2020
BY Admin February 10, 2020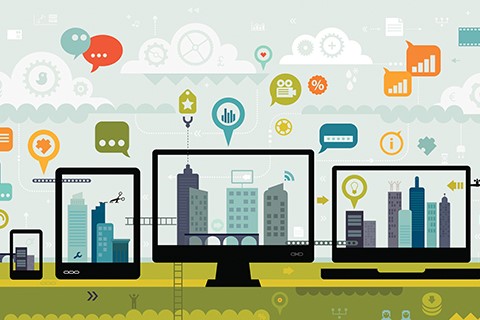 Website designing has come a long way. They aren't simple anymore, multimedia websites buzzing with interactive features rule the internet. Web design has been fine tuned and optimized to become functional as well as captivating. New design and development standards floating in cyberspace have made end user the 'king'. Users appreciate a more engaging and dynamic UX (User Experience), instead of a boring, monotonous set of pages. A good website today engages users, improves processes and performs both site and SEO (Search Engine Optimization) functions. A website design company must keep in mind the tremendous digital marketing potential that websites carry and deliver web design services that fulfill this criteria.
Apart from an uncluttered, neat and a simplistic design, a website design needs to be a multimedia experience. Users come to a website with simple, specific needs and a good website design helps the users to find whatever they are looking for without any hassle. Here's a checklist to give a general idea of what a standard web design should incorporate.
1. Fast & Quick Loading:
Users appreciate websites which respond instantly. A slow website is a major put-off even for an enthusiastic user.
2. Cross-platform Delivery:
Mobility for a website is a prerequisite these days. The number of mobile device users who browse the internet has already surpassed the number of desktop/laptop users. Thumb friendly pages and sites are the latest 'in' in web design. User bounce rate is high for desktop only sites.
3. Analytical Tracking Features:
A website must have tracking features to track and measure key indicators like user engagement, site hits, traffic, conversions, and Click Through Rate (CTR).
4. SEO Functionality:
SEO is the core of organic digital marketing and is a must. On page SEO elements when used in web design help rank your website higher on SERP (Search Engine Results Page).
5. Content Management System (CMS):
The content on the website must be interesting and useful to your audience. SEO rich content needs to be updated regularly to drive more traffic.
6. Social Media & Email Marketing:
Social media integration is offered on websites. Users can register via social media accounts or use social media app widgetsright from inside the website.
7. Progressive Web Apps (PWAs):
Progressive web applications are delivered through websites but offer the same functions as conventional apps.
8. Website Security:
A robust encryption system is needed to protect a website. Basic security and privacy protocols must be adhered to.
9. Artificial Intelligence (AI):
Websites use AI capable chatAPIs, query systems, andfeedback collector etc. These tech advancements club with other features to enhance productivity.
10. User Friendly Interface:
Again, user is 'king', the website is there for the user, so it should be very simplified and easy to navigate, providing the user accessibility and comfort. Every user loves a simple, minimalistic and elegant design.
If your website misses any of the above, then you definitely need to renovate it. Technology is moving at a fast pace and if you move slowly, you'll miss the train. The year 2020 has already revealed some of the trends that are going to continue as an integral part of website design services. Novel tech like AR (Augmented Reality), VR (Virtual Reality) and AI etc. are giving user newer experiences while handling the websites. These features enable high interaction levels between the user and website. An army of elements like hamburger menus, 3D illustrations, scroll animations, hover menus, desktop alerts etc. add to the visual appeal of a website design. Use of voice based search functions and the era of 'virtual assistants' is approaching us fast and will soon be a common phenomenon.
Whether it is a small business website, corporate website or an eConsumer portal, interactive design with a great User Interface always dominates. Text to image ratio and video content also adds appeal to a web design. Web service companies develop websites according to the current market practices but the future tech is already here. Keep visiting this space for more on the latest.