Strategies For Web Designers Amidst Coronavirus Pandemic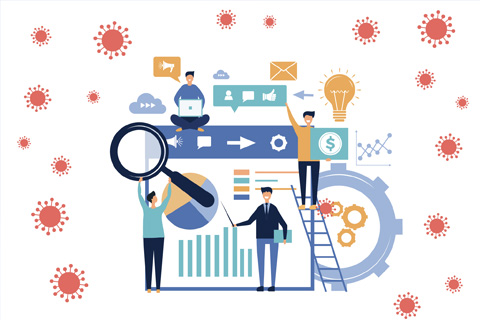 The world economy is taking a hit due to the coronavirus outbreak causing global markets to shut down and the situation is going to remain the same for a while. Businesses are shut, transport is halted, sales are down, brick and mortar stores are closed and markets are plunging daily. What does all this mean for web designers and developers? This is simply an indicator that websites are more crucial for businesses at this time than they have ever been. Maximum sales and marketing activities have switched to online methods as the internet is the only place which is not only fully functional but is growing in terms of sales, audience and content.
Coronavirus has posed some major economic threats to web designers, not only healthwise but also economically. However, there are several ideas which if considered and implemented can open doors of opportunities. Meanwhile, we have also compiled a list of activities that web designers can do to make the most of this time and boost profits.
1. Boost your website for ecommerce and online sales: Markets are shut and customers are avoiding shopping areas. This is a chance to modify your website to suit the e-commerce needs and bring out all the guns you have for this. Home delivery services, technical assistance etc. are in high demand. Retail market is down but e-commerce is getting a boost. So indulge in it, modify your inventory and pricing to make profits and expand your customer reach.

2. Revamp websites to include videos, tutorials and presentations: Businesses who rely on personal demos, on site presentations etc. can pick up right from where they left and take all these activities online. As people are moving away from personal interactions and trade shows have come to a halt, reach out to your clients and invite them to engage with you on your website via interactive videos, animations and presentations.

3. Interactive Employee's Section on Websites: Enhance your employee coordination and teamwork by building up an intranet employee communication portal. Integrate features like instant messaging, file sharing and task scheduling tools on websites to enhance work from home productivity. At this moment, it is most crucial to stay in touch, to synchronize teamwork and to stay on top of the agenda.

4. Update inventory and logistics on e-commerce portals/websites: For e-commerce businesses, it is a great opportunity to update and modify their inventory and logistics information. Revamp how your website displays products and services. Customers understand that logistics elements like supply chain, delivery chain and hours of availability have been affected inevitably due to the COVID-19 pandemic, all they expect is to be duly informed which is the required change to be made. This will help immensely in keeping your business alive and customers intact.

5. PPC and internet advertisement campaigns: According to the general predictions, the coronavirus pandemic will trigger a global economic meltdown. However, the world markets will recover soon from this but with a slight change in buying patterns of customers.This is a good time to analyze websites for SEO and scrutinize internet ad campaigns and PPC advertising strategies.

6. Gather credentials and store them safely: At this time when everyone is working from home, team coordination can suffer due to communication problems. To avoid this debacle, store all crucial credentials of those working on a project in one place safely. This can come in handy if one of the team members falls ill suddenly or is unreachable.
Apart from the above methods which can greatly improve a website and enhance brand and business value during the coronavirus pandemic, there are certain tricks that web designers can employ to gain an edge over their competitors and come out more learned and skilled out of this quarantine period.
1. Minimize Expenses: Apart from conducting meetings online or through videoconferencing, cost cutting in these times of crisis can be implemented in several ways. Take a look at your software licenses, subscriptions and hosting services, if they can be halted for a couple of months, it can save a lot of bucks. Avoid spending on themes and plugins your website can do without. Money saved is almost equivalent to profits earned in these crucial times.

2. Reconnect with past clients: Call up your past clients and ask them if they need a website revamp or modifications to sail through this pandemic situation that is heavily affecting businesses.

3.Learn new skills, tech and trends in web designing: This free time can be utilized aptly by learning about the latest trends and technologies. Focusing on skills that matter will pay out huge dividends when all this is over and behind us. Learning new coding techniques, awesome web designing concepts and experimenting with them is a luxury we can not expect all the time, thus this time should be put to good use.

4. Explore and canvass for new opportunities: Canvassing goes on all year round but this time is most crucial as most of the customers are easy to connect and are looking for services online. Put your best foot forward and present to them ideas for website development and designing. In this crucial time for the economy, gaining new business will be the most unprecedented good news that can come to you. Brick and mortar services and other in-person sales businesses are looking to back-up their data which is a great opportunity. Helping people get online and set-up work from home functionalities on websites and web portals is a huge opportunity waiting to be explored.
Don't be mistaken about the sinking economy as there is a silver lining to this too. New businesses are opening up and they need to get online for which they need you. Get out there and find them. E-commerce players are revamping whole websites to attract more customers and this is your opportunity to earn great profits.
As emphasized before, businesses that never tried the internet are now shifting gears and working to get online to stay in business. Use this opportunity to expand business and gain new clients. Offer your web designing services at discounted prices and entice them to invest in you and hire your services.