Tips And Tricks For Designing Better Websites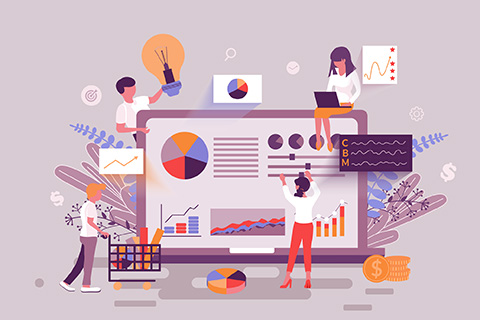 Commercial web design and development is a bit tricky in the sense that it oscillates between technology and consumer behavior. There is always something new in the market that starts trending and soon consumers want to consume it via the digital space. Web design services often face the challenge of keeping it simple yet making it eye catching. On top of that there is a technological gap between the consumers and clients which the web developers and designers are always trying to close.
Building beautiful and commercially viable websites takes creativity, imagination and most of all planning. In this post, we will go over some quick tricks that can fill the gaps in your web designing strategy. These tips cover everything from aesthetics to audience, color scheme to coding schema and from concept to content. Let's dive right in:
1. Seeing Is Believing: Generally it is said that the first impression counts, but as website developers you have to do better than that. A good and elegant design not only attracts consumer's attention but maintains it to keep them long enough on the website. Stick to simplistic designs, legible text and soothing objects on the website pages. Hire a web design service that understands this and implements it skillfully.

2. Communication Is Key: A good dialogue between the client and the developer ensures that client expectations are clearly understood and implemented in the design. Use of creative briefs is recommended to furnish this if the client is unsure about the designing strategy. Keep the client in the loop for every minor and major development on the project.

3.Time Is Money: On an average, a decent website should load itself completely within 8 seconds. Anything beyond that can lead to viewers abandoning your website. This is vital because users will not wait around, they will simply navigate away to save time. Use smart plugins and tools to make your website go faster. Compressing images, videos, logo and graphics is another great way to achieve this.

4. Use Smart Techniques: Creating a parallel CSS file for the website helps you apply changes using single line commands. Making individual changes can be time consuming and erroneous. A CSS script allows you to make changes to complete pages or websites with a single line of code.

5.The Layout Matters: Create the information flow of your website which is comfortable to access and engage. Use 'call to action' elements smartly where they can be easily noticed by the visitors. Give relevant information like the mission and goals of your company on the home page and make the visitor feel at home while using your website.

6. Audience Driven Content: When you think content, think audience. Include informative and engaging content that answer to questions, give solutions and helps users make decisions. Carefully list out your services and describe them in simple language. Making your content customer oriented will drive conversion rates remarkably. Provide 'how to do' guides, downloadable materials and free content that the audience can use.

7.Eye Pleasing Colors: Choose color schemes wisely as they can ruin or make your website. Keep a consistent background that allows text to be easily read. Invoke the right kind of sentiments in your audience's mind with your color scheme.

8. Effortless Navigation: Websites slowly become more complex as products/services and pages are added to them. Keep the navigation simple and smooth. Any page on your website should not take more than 3 clicks to reach. A good navigation eases the customers and allows them to freely access and indulge with your business.
Web designing doesn't get complicated if it is approached with a set strategy incorporating the basics. Poorly designed websites become a liability instead of being an asset. Work up creative briefs that analyze the web designing and development from every angle. Ensure that the client is a participant in every phase of the process from beginning to the end. Last, but not the least, always keep the audience in mind. The website is for them and not you or the client so every strategy should keep the audience at the forefront.